Med Green Forum will take place from 20 to 22 July 2022 at:
University of Study of Florence
Architectural Department
Campus Santa Teresa
Via della Mattonaia 14
Florence
ITALY
GETTING TO FLORENCE
By Air
The Florence airport (FLR) is called Amerigo Vespucci and is situated on the north-west outskirts of Florence, just 4 km from the city center. The airport can be reached from the center of Florence, driving the whole length of Viale Guidoni up to the road leading to the "Firenze Nord/Firenze Mare" superhighway (A1 and A11).
The center can be reached in bout 15 minutes by taxi, 20 minutes by Tramvia T2 (a tram thatconnects the Airport to the Central railway station of Santa Maria Novella) and in about 20 minutes with the Busitalia SITA Nord "Vola in Bus", bus shuttle operating between the airport and the central railway station of Santa Maria Novella. See below for more details.
The Florence Airport is connected to some of Europe's major airports such as Amsterdam, Barcelona, Brussels, Bucharest, Frankfurt, Geneva, London Gatwick, Madrid, Munich, Paris Charles de Gaulle and Vienna. There are also flights to and from the following Italian cities: Bologna, Cagliari, Catania, Milan Malpensa, Olbia, Palermo, Rome Fiumicino, Turin and Verona.
The airport is also easily reached from other Tuscan cities as it is just off the A11 and A1 Firenze Nord exit : Prato (8 km), Pistoia (24 km), Montecatini (36 km), Lucca (65 km), Siena (68 km), Arezzo (77 km), Pisa (86 km), Carrara and Massa (117 km), Grosseto (143 km), as well as from the sea and its ports: Livorno (115 km) and Piombino (170 km).
For more information, visit the airport's website at: www.aeroporto.firenze.it
Car rental
To rent a car for day trips into Tuscany, search for special offers on the booking box in the car rentals section, but read our tips first!
By train
The city's main railway station is Firenze Santa Maria Novella (abbreviated as Firenze SMN). Situated in the city center, it is conveniently close to the major tourist attractions as well as to the main exhibition and trade centers. The station area is also the principal node for buses serving the city and the surrounding area (see Moving around by bus).
The second most important station is Firenze Campo di Marte which is being used increasingly for national and international train services. The Campo di Marte train station is just outside the main road ring (boulevard) that surrounds the historical city center (the viali circonvalazione).
The Florence SMN train station is open from 4.15 a.m. to 1.30 a.m.
For timetables and tickets, visit www.trenitalia.it/ as well as www.italotreno.it
By bus
Florence is served by a number of international bus companies. The one with the most extensive network is Eurolines.
Getting around any city on bus/tram is easy. All of the main lines of the ATAF, the city's bus transportation system, stop at Firenze SMN; only bus lines 12 and 13 bus go to the Campo di Marte train station..
The TRAM line from Santa Maria Novella takes you to Scandicci, passing through the Cascine Park and over the Arno. The tram is a great alternative to buses traveling to the same area as it isn't blocked by traffic at peak traffic hours.
HOW TO REACH UNIVERSITY OF STUDY OF FLORENCE ARCHITECTURAL DEPARTMENT
Buses lines
14 SANTA MARIA MAGGIORE --> ROCCA TEDALDA 03 (stop Niccolini)
23 T2 GUIDONI --> SORGANE (stop Niccolini)
32 LA PIRA --> ANTELLA (stop Niccolini)
Tickets
Ticket 90 min. € 1,50
Ticket on board 90 min. € 2,50
Carnet 10 Tickets X 90 min. € 14,00
Getting around by taxi
Getting around any city on taxi is not difficult, but you do have to know ahead of time that in Italy taxis cannot be flagged down as they pass you along the street! Taxis are instead "stationed" at special taxi parking stands in most of the major squares in any city and at the airport and they can be requested by phone.
In Florence, the numbers for calling a taxi are:
055.4242
055.4390
055.4798
055.4499
ACCOMODATION
Grand Hotel Mediterraneo 4.5 stars at very low price.
Contact Mr Carlo Fabiani at 0039 055 660241 ext. 2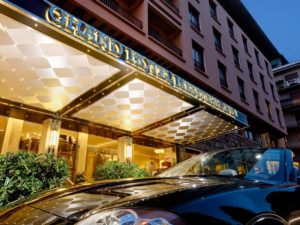 BADGES
All participants are requested to wear their badges throughout the event.
In case of lost or find a badge, please inform the registration desk immediately.
Useful link:
https://www.visitflorence.com/