Med Green Forum invites researchers, professionals and experts to submit contributions (scientific studies, essays, innovative projects and best-practices) and join the debate on Mediterranean Architecture in the Green and Digital transitions.
ABSTRACT SUBMISSION
Referring to the MGF6 sessions and topics, participants are required to submit an abstract of no more than 300 words, concisely covering objectives, methodologies adopted and results. They should be written in English and include four or five keywords.
To submit the abstract, register in the MGF 'USER AREA', compile personal data and profile and go to 'abstract submission', where it is possible to insert the abstract's title, choose the MGF6's session, upload the abstract (one page A4 – PDF file) and indicate the authors of the contribution.
The abstracts should be prepared using the following 'MGF6 abstract template' (.docx) and exported in PDF for the final upload.
MGF6 ABSTRACT TEMPLATE – download
CLICK HERE TO SUBMIT
PAPER SUBMISSION
Authors of accepted abstracts can/should submit their full paper for the double peer review process, carried out by the MGF6 international scientific committee.
As for the abstracts, the paper submission will be managed in the MGF USER AREA, where it will be possible to upload the full paper.
For the preparation of the manuscript, authors should use the .docx template.
Accepted contributions will be published in the Med Green Forum proceedings, edited by Springer.
The best 10 papers will be published in the the open access international REES Journal (Renewable Energy and Environmental Sustainability).
MGF6 PAPER TEMPLATE – download
CLICK HERE TO SUBMIT
KEYDATES
– Late abstracts will be accepted until 10 June 2022!
– The deadline for the abstract submission is 27 May 2022 ;
– Accepted abstracts will be notified by 3 June 2022 ;
– Forum Programme 10 June 2022 ;
– The deadline for the full paper submission is 20 July 2022 ;
– Forum Proceedings 30 September 2022
For any doubts or further information, please contact us at mgfdida@unifi.it 
PROCEEDINGS
PROCEEDING will be ready with the publisher in the FORUM at low cost and you have to contact the publisher yourself and buy them. You can contact them in advance if you like:
Mr Michael McCabe
Senior Editor
Applied Sciences
Springer
233 Spring Street, New York, NY 10013
T +1 (212) 460-1505
michael.mccabe@springernature.com
Conference Proceedings
Conference Proceedings will be produced after the Congress by Springer and 30 papers will be published by Journal of Renewable Energy & Environmental Sustainability - Open Access well refereed Journal.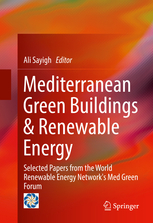 Click here for Mediterranean Green Buildings & Renewable Energy - Selected Papers from the World Renewable Energy Network's Med Green Forum
Editors: Sayigh, Ali (Ed.)