Mission
This is the fourth bi-annual World Renewable Energy Congress and Network Forum aimed at the international community as well as Mediterranean countries. The first forum was held in 2010 in France. The Forum will highlight the importance of growing renewable energy applications in two main sectors: Electricity Generation and the Sustainable Building Sector. The Mediterranean region was chosen to illustrate the viability of using renewable energy to satisfy all its energy needs.
Read more
Conference Proceedings
Conference Proceedings will be produced after the Congress by Springer and 30 papers will be published by Journal of Renewable Energy & Environmental Sustainability - Open Access well refereed Journal.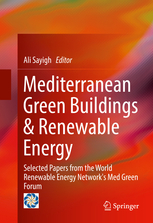 Click here for Mediterranean Green Buildings & Renewable Energy - Selected Papers from the World Renewable Energy Network's Med Green Forum
Editors: Sayigh, Ali (Ed.)
Impressions from 2015 edition